Lay of the Land: BAM 12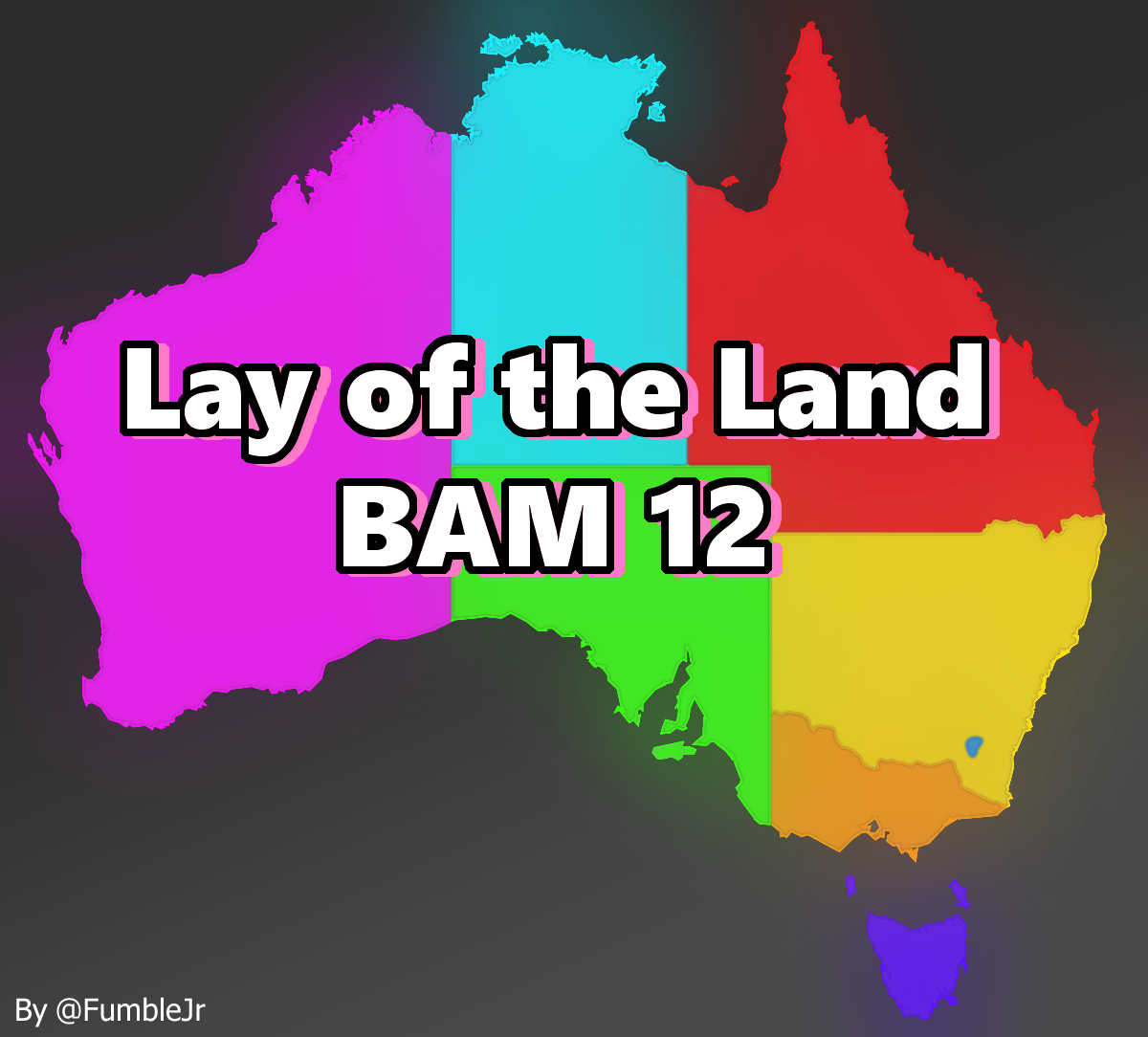 This article could not have been possible without the help from community members all over Australia. Thank you so much to Taicho (SA), Sice (NT), BattleDolphin (QLD), Keutz (WA), Noot (TAS), Nevarc (VIC) and MAMP (ACT) for their knowledge of their local scenes and willingness to contribute.
Battle Arena Melbourne 12 is the first Australian major since Phantom 2020.
It's also the biggest Smash Ultimate event we've ever had, barely beating out BAM 11's previous record-setting 340 entrants.
The stage is set for an incredible event.
It's been over two years since we've seen interstate competition on this level and a lot has changed, so let's get look into the threats coming from each state and get the Lay of the Land for BAM 12.
Queensland
Queensland is fielding big numbers and even bigger threats with their entire upcoming PR in attendance.
But the threats from Queensland have changed a lot since 2020, with players like Ari, Classic Jono and BAM 11 winner Ben Gold becoming inactive.
A new wave of top players sits atop Queensland's rankings and is looking to deal some damage at BAM if the February Ranbat is any indicator. This event featured many strong players invading from Vic, NSW and SA which helps us consider how QLD's top level sizes up to the rest of Australia.
There's Jix, a nasty Diddy who beat ranked Vic invaders like Duon and Mast.
Dags, a Wii Fit and Peach player who took out Sriks, Duon and more during a crazy loser's run.
Spammage, an Ice Climbers main who clawed her way through 8 losers set to place 4th at the Ranbat with wins on interstaters Flow, Danklin and Heaven.
Bro1 took Victoria's Xav out of winners and plays an explosive Wolf with a dangerous Mr. Game and Watch secondary that makes him a menace to deal with.
And beyond them is other strong players like Joz, BakedGoods, DFS and SadHour.
While all of these players are great in their own right, their choice of characters also makes them volatile and hard to prepare for. I expect to see some amazing sets from Queensland's best, but there's more than just them to look out for.
Sifo1 mightn't be in contention for QLD's best, but he's a strong player backed by explosive characters like Kazuya and Ganon which is a recipe for devastating upsets. There's also Mana, a patient Kirby player whose smart approach to the game could turn a pool on its head if given the opportunity.
With 42 Queenslanders coming to BAM it's hard to shine a light on everyone, but there's big hitters who could cause upsets at any level of play. With a top level capable of toppling invaders like Sriks and Heaven, Queensland looks poised to be a threat at BAM, with multiple players who could make a run for top 8.
South Australia
SA's headed into BAM with their top threats Ghost, Taicho and Heaven.
Heaven is a recent addition to SA's collection of big hitters, with BAM 12 being his first major. He plays the FGC characters and recently cut his teeth outside of SA at the QLD Feb Ranbat where he placed 5th after an explosive run featuring a tense game 5 set with Spammage and beating threats from Vic like Flow and Beet.
Though Ghost has been a little inactive recently, he tore up Victoria a few months ago and as a perennial top 8 contender at Australian majors he's impossible to count out of any bracket.
Taicho is Australia's top Greninja who managed to eke out a #1 ranking over Ghost last year. His patient gameplay, tricky movement and precise execution make him a threat at any major.
Two more ranked players from SA will be attending BAM. CaptainCoolade and Naora, who are traveling to a major for the first time. Both of them are masters of setplay, capable of pushing any advantage they find with their characters. CaptainCoolade might genuinely be the best Pac-Man in Australia while Naora's Belmonts are capable of edging out games over seasoned players.
A sizeable chunk of the SA scene is headed out, with 23 players there's bound to be some hidden threats lurking amongst them. At recent events, Fen, KyoKyle and Zekora have all managed to find PR wins and made it to top 8 at the Arcadian a few weeks ago. There's also two ex-PR players in Jacko and Spewis who are off the radar but capable of making solid runs.
Though he won't be attending BAM, Yosha, a Ness player who got 2nd at the Arcadian managed to upset Vic PR members Danklin and Mast while traveling in recent months for further proof that SA has threats lurking in their scene.
When events returned post-lockdown South Australia saw a number of new entrants, some of which climbed the ranks to make a name for themselves in their scene. There's a lot of players traveling for the first time, and the entire community's excited to see how they go.
Between the old guard and the new threats SA's got what it takes to make a statement at BAM.
Western Australia
Perth is one of the more isolated regions within Australia and over the the pandemic there's hardly be an opportunity for their players to travel. But BAM will at last give us an opportunity to see how they size up to a very different Australian scene. Their top dogs, Luma and Poppt will be present and looking to stake a claim after their tied 17th place finishes at Phantom 2020.
A host of ranked players are traveling out, like Fryd Ryce. A relative newcomer whose Pikachu rapidly rose to challenge the elites of Perth after they beat Jdizzle in the SWT Online Qualifier. There's Jarr who's able to find big wins like Poppt with a well-studied Luigi. Teehee! is another contender for the true holder of the best Pac-Man in Australia title. Ever's Ness is unrelenting in advantage and capable of exploiting the smallest of openings for the biggest reward.
It's impossible to overlook a player like Tonberry who is bringing a Hero capable of upending brackets while fishing for surprising upsets.
Among those attending there's Temper, an ex-PR member who rocks a nasty Piranha Plant. YukiDraco, a Joker main with frightening conversions who could punch above their weight. SharnyPooza, a Banjo player and Jager an FGC character player who can catch stronger players unaware.
Due to the stronger covid safety of their region, Perth was able to run events more consistently throughout the pandemic than the rest of the country. They're coming in hot with over 20 players making the trek, many for the first time and eager to make their mark on Ausmash history.
Also worth noting is that doubles fiend Luma has teamed up with Jarr to make a wild combo that could tear through the doubles bracket.
New South Wales
NSW experienced a lot of change over Covid. We lost a slew of top and high level players to retirement or moving out of state, but those that were left and new faces scrambled through fierce competition to establish new ranks. Despite this, the first post-covid major has attracted some of our older top threats like Phantom 2019 winner Luco and Shmu while a lot of our newer top players won't be attending.
Of those coming, there's Fez, a chaotic Pokemon Trainer who isn't afraid to send randy flare blitzes with an unreasonably high hit rate on top players. Chipotle, a Terry/Dedede player capable of taking sets over strong players like Spammage and Xav.
Players like Isak, a calculated Fox with snappy execution. Dugongs, a fierce Roy who's no stranger to making interstate upsets and Kanga, a patient Snake who's ready to grind out any matchup. All of them will be making a showing and are capable of taking names.
BjSchoey's Incineroar and Spike's Ludwig are masterful examples of what rare, volatile characters backed by rare, volatile players are capable of. They're the top players of Wollongong and Newcastle respectively, which are smaller scenes within NSW but they're skilled enough to test the patience, execution and knowledge of any top threat. They've proven themselves able to make wild upsets and tense comebacks against some of Sydney's best, with Spike also recently taking a set off of Kinaji.
We have strong players like Fontana, a DK who recently beat Beet. F1erce, a Samus player capable of walling out all aggression. Paristhecoolbat, a young Wolf with patience beyond his years. Governor, a diligent Roy that excels at picking the right moments to explode your stocks. Violet, a Greninja/Pikachu player who's always running hot.
And then there's Leak. A previous Aus PR player from Smash 4 whose knowledge and experience with Smash is so deep it's entirely possible he could contend with any top player he's familiar with. With over 35 players coming, NSW is packing a punch.
But perhaps the biggest wildcard at BAM is an FGC player by the name of Cyctorn who entered a single bracket early 2021 in Sydney, tore it up with their Terry and scored multiple upsets on high level players before they disappeared into the night with exactly 1337 elo, never to be seen again until BAM 12. They have the potential to knock out some PRed players from any state and I am keen for the upsets to keep their legend alive.
We're not sure how well the new NSW scene sizes up to other states but I wouldn't count us out. We're the wildcard state. Our own events are volatile with our high and top level players a mix that's often difficult to tell apart. Every player from Sydney knows what it's like to fight for your life in a cutthroat bracket that I believe has prepared us well for majors.
We're also prepped for crowds and capable of bringing the noise with many members of Australia's #1 cheer squad, Battle Kat Bunker in attendance.
Australian Capital Territory
ACT has historically been a small scene with a disproportionately strong top level, and though Sriks has moved to Melbourne it seems like that hasn't changed. Kinaji currently dominates their locals with Snake and Shulk and has proven himself against top players out of state. Maplemage's ZSS and Sora are still a threat to be reckoned with. Meanwhile PaulBaulo (Cherry's new tag), an Aus PR HM who sporadically attends ACT events is popping off with their Belmonts and Ants (Adeptus's new tag) has been developing a dangerous Fox and demonstrated they aren't to be taken lightly either. All of these players have serious potential to go far at BAM but there's more going on in Canberra than just the top dogs.
Legacy, a Kirby main, has emerged as a consistent top 8 threat at locals, who's come close to taking sets off of Canberra's best. Days ago he scored a win over Dugongs at a Sydney monthly and looks to be coming in hot to his first major.
Ex-Wifi Warrior KyeChimera has been showing up to Canberra event and risen from mid level to PR with wins on Sriks, Kinaji, Maplemage and Glace. His calculated aggression gives him a deadly Samus that can find kills off of any opening. With BAM being his first out of state event, it's possible we see Kye make some waves.
Two ex-PR players have made a return to Canberra's events and are fired up for BAM. Jay's Chrom and Joker are backed by an unflappable mentality and fierce execution which gives him huge potential to cause some upsets, while Brax has welcomed Steve to his roster of whacky characters capable of erasing stocks in the blink of an eye. Both of these players are not to be slept on and could catch out anyone unprepared for what they're bringing.
Though the ACT scene is small, they're pumped for BAM and the competition is hot. With at least 15 people headed down to Vic, including many traveling for the first time, Canberra is ready to strike out and prove they're capable of great things.
One last thing to look out for is the doubles double threat of Kinaji and Sriks who are likely to run deep in the BAM doubles bracket.
I would like to close this section on the ACT scene with an essential quote:
"Jasmine aka rana aka yarbsarb aka cbdkebabs aka deoxys midnight runners aka huge nintendo ds is the best Pac-Man in Australia."
-ACT Tournament Organiser MAMP
Northern Territory
NT is a small region that's relatively new to the scene but they're showing up to BAM with quite a few players. It's an important opportunity for the territory to better integrate with the wider Aus scene, so be sure to be on the look out for Rav, QuoPro, Slax, Ezman, Sice, xtraliy0 and any others who might rock up.
Of note is Sice, a well-traveled Fox main and commentator. Xtraliy0, a Smash 4 vet & ZSS main. And Rav, an up-and-coming Pacman/Steve co-main. I'm hopeful to see some damage coming from the NT and while these three might be the ones to do it I wouldn't want to sleep on anyone from a relatively undiscovered scene.
We have no idea what these guys are capable of and I'm so excited to see what happens.
Their community might be smaller and lacking some of the Smash infrastructure other states have, but they make up for it with passion. The prospect of interstate travel and BAM has spurred on competitive energy within the scene, with many players hyped and excited to grind and put their best foot forward in Vic. With more majors on the horizon, we might see that passion show up and produce some stellar runs from NT players soon.
Sice also wanted me to make it clear that the Tekken scene from the NT plays hot and are showing up to BAM, so if you enjoy watching some Tekken be sure to keep an eye out for NsJNR, Ezman and DemonCalvier.
Tasmania
The Tassie scene has mostly decided to pass up on BAM and set their eyes on Phantom instead. With the sole entrant for Ultimate Singles in Sadlife. We might see a little something something out of them, but otherwise look forward to Phantom to see what Tas can do.
Victoria
All eyes are on the most dominant state pre-covid. Not only fielding some of Australia's top competitors like 2nd place at BAM 11 Extra, multi-major winner DD and recurring #1 in the country Jdizzle. As the host state most of Victoria's best will be present. Over quarantine it only seemed like Victoria got even stronger with the addition of players like Beet and ACT's #1 player Sriks who moved into the state as well as newcomers like Xav who rapidly climbed to the upper ranks.
The last major before quarantine had 5 of the top 8 slots taken by Victorian players and it wouldn't be surprising to see a repeat or better showing with how stacked the region is.
But the rest of Australia has to be on watch for more than just Vic's top level. At every tier of play, Victoria has threats capable of shaking some huge names from out of state like WeToxicFew and CookieZac. There's wildcards like Ezycole and Malikoff. Renown interstate slayers like P9 and a wide variety of characters that the rest of Australia struggle to find high level representation of from Jigglypuff to Mii Swordfighter and so many more. It's difficult to talk about Victoria without launching into a spiel about how potent the scene is because there's threats around every corner.
Victoria's top level is cracked, and their high to mid level players make the state a powder keg capable of blowing chunks out of the bracket. If you're traveling to BAM, I would hope you've brushed up on the sharks in your pool or you might go down in the lore as the victim of the MCEC incident.
Finally I would like to thank all of the Vic TOs who got BAM up and running this year. Covid has disrupted and delayed so many plans, and most of us aren't privy to the challenges that can cause behind the scenes.
Nevarc tells me it's been a long and difficult road for all of the organisers. He hopes that it all paid off, that BAM will be a major that lives up to expectations. I'm of a good mind that it will be. We've all been hungry for majors for so long now and it's important to thank those who make it happen.
In closing…
BAM 12 is going to be sick.
Almost every scene across the country is showing up with record numbers, fielding some of the biggest threats from their regions. Foreign invaders like Terrarian, the best player from Singapore will be present too. It's impossible to draw any conclusions before BAM, even Vic's supposed dominance has shown a few cracks in the interim since Phantom.
We've all be on the sticks getting ready to front up.
All that's left to do is play out hearts out and watch the show.
And if we're lucky, we might find out who really is the best Pac-Man in Australia.
Best of luck to everyone attending.
-Fumble (@FumbleJr)
by Fumble 05/10/2022 00:00:00